Aldi Ashby 20 gives back to the local community in the shape of donations from the annual running event
By Ashby Nub News Reporter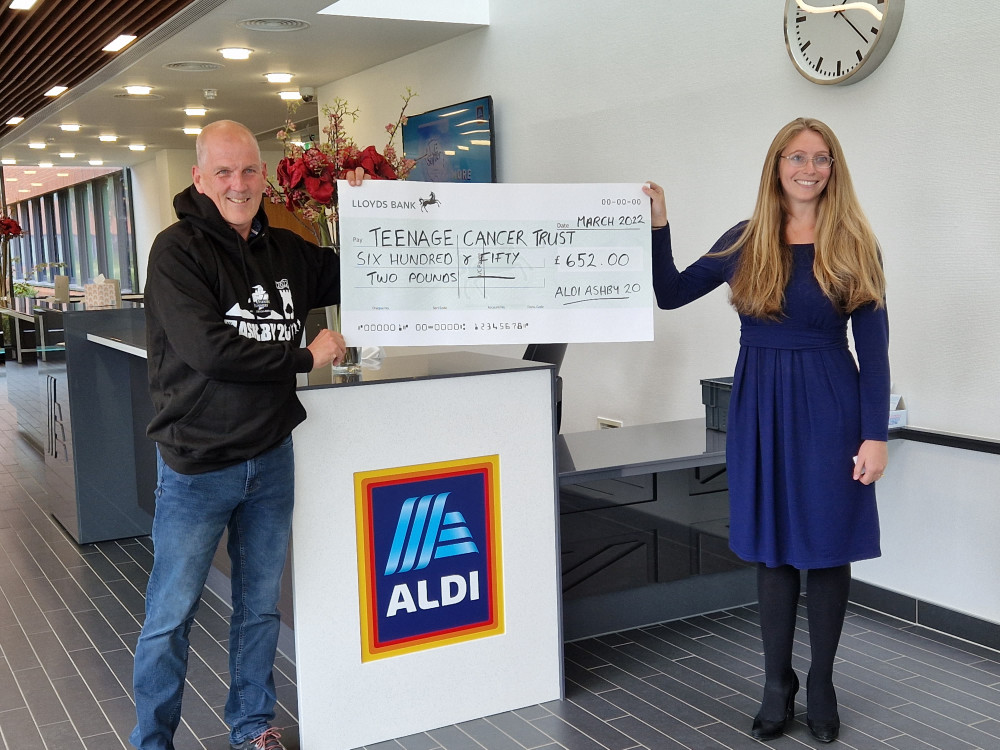 Richard Bebbington, The AA20 Race Director, presents a cheque to Liz Fox, Aldi Corporate Responsibility Director
The Aldi Ashby 20 has been showing how it is more than just a sporting event - as it continues to support the local community.
It is a 20-mile road race, organised by runners, for runners, with the volunteers from Ivanhoe Runners club - and they have been busy organising the 2023 race, which will take place on Sunday, March 26.
But now, donations received from the 2022 event have been distributed locally.
When entering the race, runners have an option of donating to Teenage Cancer Trust (TCT), Aldi's charity partners - and Richard Bebbington, The AA20 Race Director, had the honour of presenting a cheque for £652 to Liz Fox, Aldi Corporate Responsibility Director, on behalf of TCT.
Each year, the volunteers have the opportunity of donating to the AA20 charity fund to receive a famous Ashby 20 hoodie, should there be any left over.
This year the funds raised were put towards purchasing a defibrillator for the Conkers Parkrun, as a thank you to the local running community who support the annual race.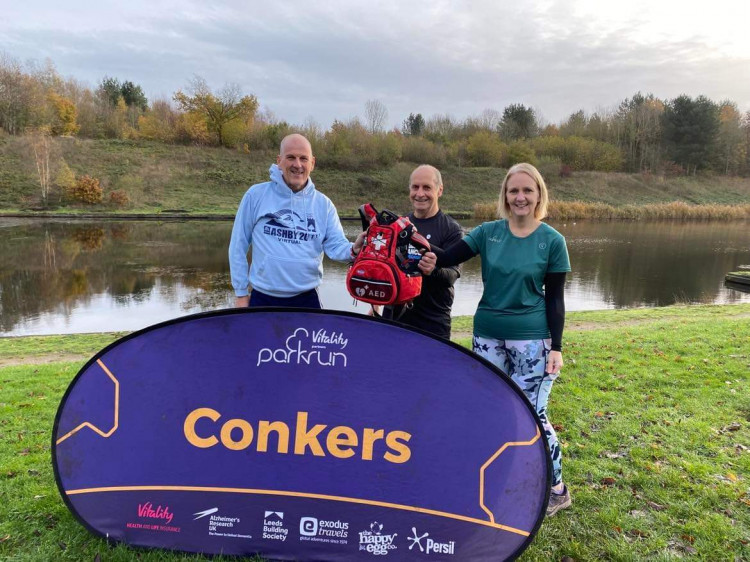 The defibrillator was presented to Conkers Parkrun last weekend
The defibrillator was presented to Conkers Parkrun last Saturday.
The last remaining hoodies were donated to Help the Homeless in Leicester - going a small way to keeping some needy people warm this winter.
In addition to making these donations, the race also allocates a small number of charity places.
Next year the event will be supporting Wishes 4 Kids and Hospice Hope, along with the Aldi charity partners Teenage Cancer Trust.
Richard said: 'Over the years the Aldi Ashby 20 has become an integral part of the ever-growing Ashby events calendar.
"Our race is a 'not for profit' event, organised by volunteers, meaning that we rely on the good nature of the local community.
"In turn this allows us to 'Pay Back' to the local community.
"This brings such pleasure to the event organisers, Ivanhoe Runners".
Entries for the 2023 event are filling fast. For further information see the Ashby 20 website, HERE.