Look out for the Fiz-copter as Ashby runner Fiona hopes Marathon effort lands her in Guinness Book of Records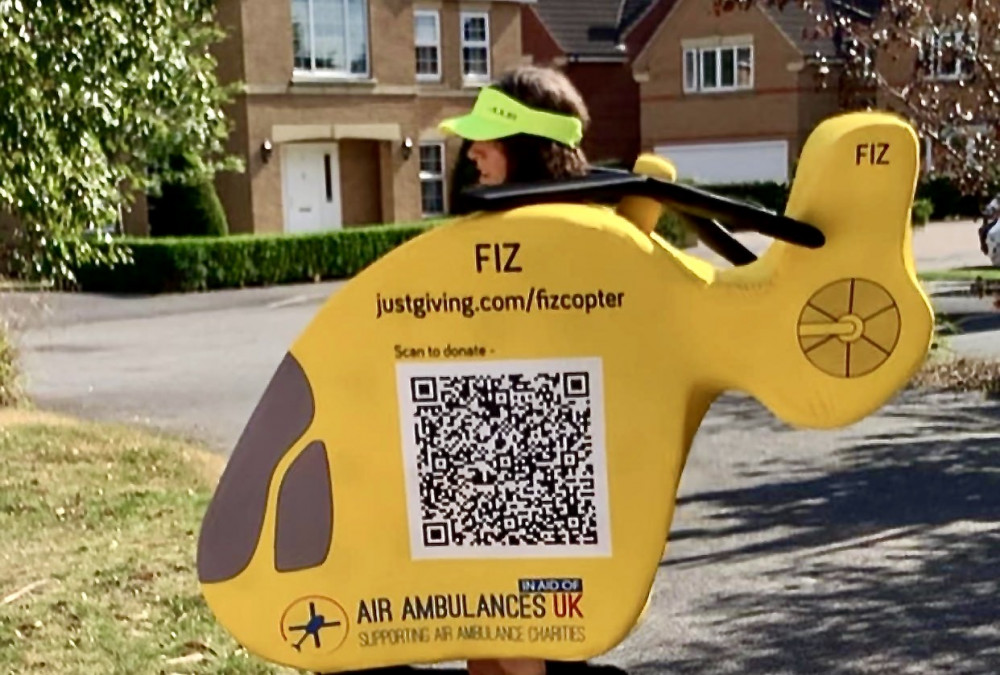 Ashby-based Fiona will run the London Marathon dressed as an Air Ambulance. Photo: From Fiona Betts
An Ashby runner is aiming to make it into the Guinness Book of Records - by completing the London Marathon dressed as a helicopter.
Fiona Betts - who ran the Tokyo Marathon in Japan last weekend - will be raising money for the Air Ambulance Service.
She has run 12 marathons in all - but none of them have been while wearing a costume.
But next month, she will be dressed as an Air Ambulance helicopter - and has already been spotted out training in Ashby.
Fiona - nicknamed Fiz - got the idea when she saw one of the helicopters touch down on land close to where she lives.
She had the costume - called the Fiz-copter - specially designed. But while it looks impressive, Fiona has to get used to running in it, hence the full-dressed up training sessions.
However, as well as raising as much money as possible - you can donate HERE - she wants a place in the Guinness Book of Records.
Fiona told Ashby Nub News: "I'm going to aim to be the fastest 3D aircraft in the female category.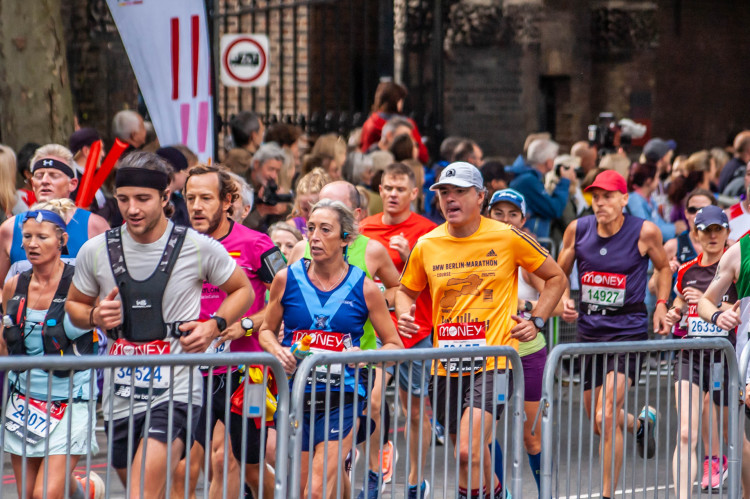 Fiona will join thousands of runners in the London Marathon. Photo: Dreamstime.com
"There's a men's record, but not a women's, so I need to get around in six and a half hours - but I'm quietly confident I can more than beat that my actual personal target is to try and get around in five hours.
"But it's still quite a challenge wearing something so big and not knowing what the weather's going to be be like on the day.
"If it's windy, it'll be hard, if it's wet, it'll be hard - and if it's a hot day, it'll be hard.
"I'm hoping the London Marathon atmosphere will get me round, but the rules say I have to keep my arms in the costume, so I won't be able to wave at people."
As well as competing in events such as the Tokyo Marathon, Fiona - who works full-time for an energy company - has also taken part in triathlons and aquathons.
She is seriously committed - and has also run marathons in Boston, Chicago, New York and Berlin, as well as London.
But donning a costume for the classic 26 mile event is new territory for her.
Fiona added: "For years and years and years, I've wanted to be a Guinness World Record holder.
"I've watched the London Marathon since began in 1980. And always thought it would be amazing to have a crack at it, which I have.
"But I've never run a marathon in fancy dress before. And I was looking to try and find something that would be feasible.
"And I think it was the day after London Marathon a few years ago, I live in Ashby on the edge of one the estates and the Air Ambulance landed in the field behind me.
"So I thought I would simply run as a helicopter and started to do some research. That's where the idea came from.
"I did have a look at making it myself, but I'm not very handy.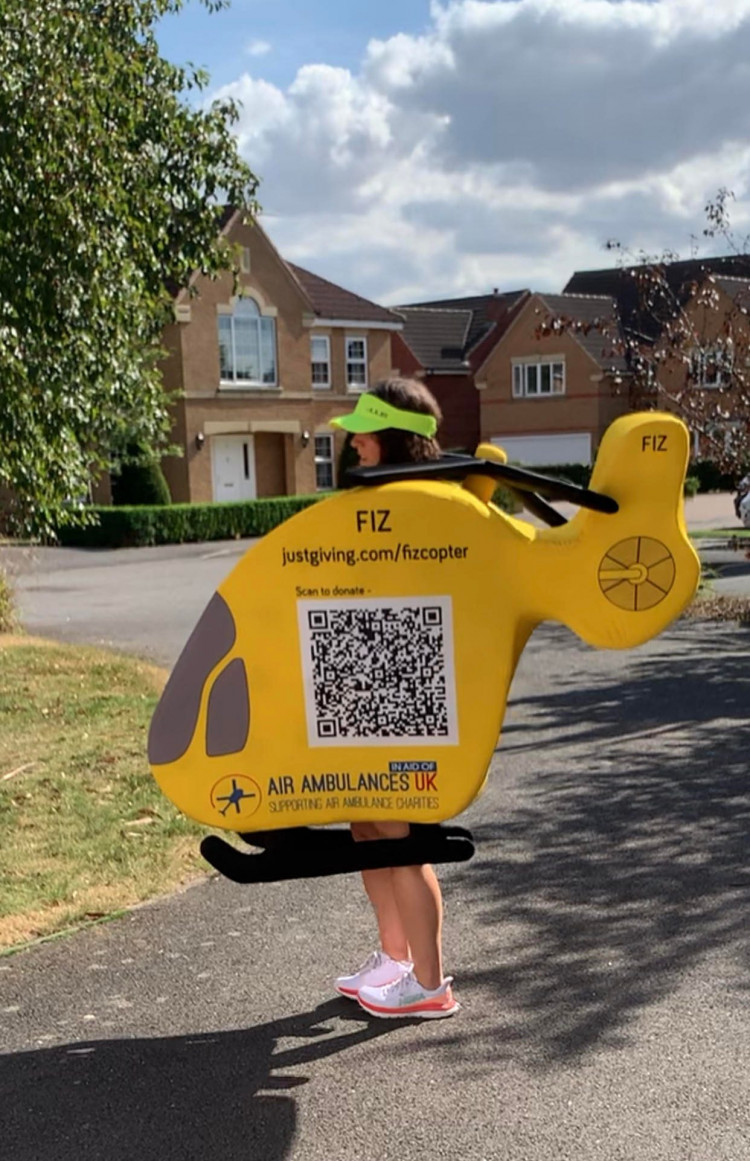 Fiona has had plenty of encouraging comments on her runs around Ashby
"So I did a few Google searches and I found a company in London called Jelly Head Studios.
"I think the name comes from the fact that they make kind of mascot costumes and things like that.
"So I paid to have it professionally made because I'm going for a record.
"And I also want to do my best for the Air Ambulance if I'm going to run on their behalf.
"Not that I've ever needed to use their services thankfully but I do know people that have - that was another reason why Air Ambulance came up, it's a fantastic charity to be supporting.
"It's just quite unique, but I can't really describe how difficult it is running a massive costume.
"I'll have a better idea of what it'll be like in a couple of weeks - when I've racked up some more miles - as to how much Vaseline I'm going to need to take with me on the day."
Fiona has already had plenty of encouraging comments from her runs in the costume around Ashby.
She said: "The support's been absolutely fantastic.
"One time that I went out I even had a really lovely gentleman stopping me in the street - he asked if I was raising money for charity, and actually handed me some cash.
"That's the kind of generosity that I've received from people.
"But now that I'm back from Japan, I'll be making a lot more appearances out and around Ashby."