Ashby library to host gallery after local artists were given recognition and exposure for their work at Conkers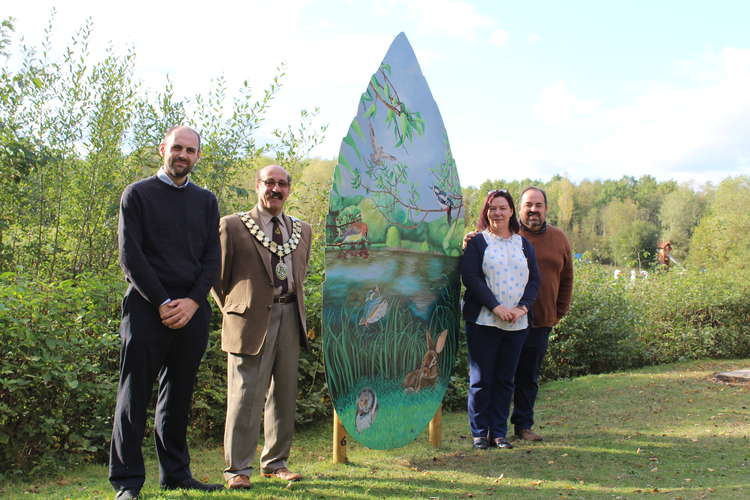 L - R Councillor Andrew Woodman, Chairman of NWLDC, Councillor Virge Richichi, Nicky Carlton, General Manager at Conkers and Chris Sturdy, Operations Director at Planning Solutions in front of Kayleigh Bradley's design, 'The Blue Flamingo.'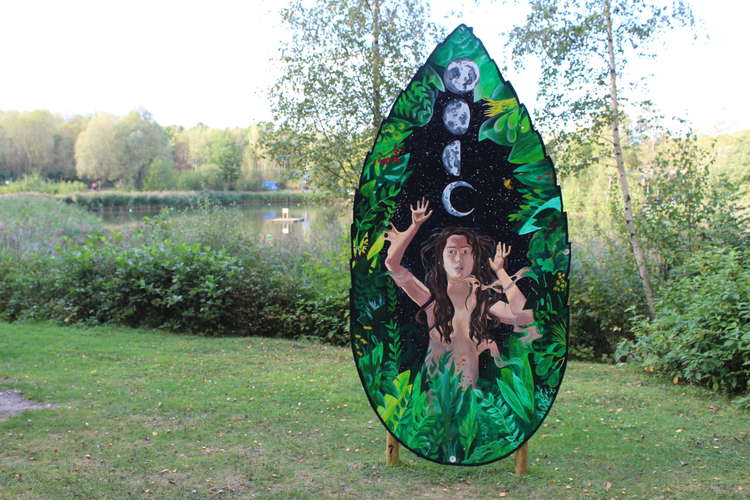 Ibby Elwell's design, 'Reconnection' on display around the lake at Conkers
Local artists and special guests have been celebrating the success of Coalville's first outdoor art gallery exhibition at Conkers.
The event, which took place at the Moira venue, was organised by North West Leicestershire District Council and Conkers to congratulate artists for making its Living in the National Forest art gallery a success.
Guests were able to enjoy a 4D cinema experience, view a children's art gallery and follow an outdoor art trail where they could view the 21 8ft leaf shaped art boards they had each designed.
Over the summer months the art boards were put on display around Coalville town centre and were then moved to Conkers to give artists another opportunity to showcase their work.
In the 10-week period that the exhibition was on display at Conkers, it was recorded that there were 90,000 visitors, giving the artists recognition and exposure.
The project has now come to an end and a collage of the artists work will be displayed in Ashby library.
The art gallery was also very popular while it was on display in Coalville, with an increase in visitor numbers to the town centre.
Coalville Nub News covered the display in this article.
Comments from visitors and shoppers included:
"We really enjoyed walking around seeing the artwork on display around Coalville, the buzzard is amazing. Well done."
"Three friends from Hinckley and I went last Thursday to see the artwork in Coalville. We had a great day spotting them and having coffee at the Century Theatre Café. Pleased to say they were really impressed with Coalville."
"Really enjoyed looking at all these leaf boards. There are a lot of very talented artists in the area. Well done everyone."
"I love them! Well done to everyone who took part."
Councillor Tony Gillard, Portfolio Holder for Business at North West Leicestershire District Council, said: "Our first outdoor art gallery has been a great success and it's been amazing to see so many shoppers and visitors enjoying the artwork.
"We have a lot of talented people here in North West Leicestershire and the outdoor art gallery has helped these artists to explore their talents, showcase their work and remind us how lucky we are to live within the National Forest.
"Thanks to everyone for taking part, we look forward to bringing this back as an annual event."
Nick Carlton, General Manager at Conkers, said: "It's been great to work with North West Leicestershire District Council and showcase the talents of local artists in the area.
"The project has been a great success here at Conkers and the increase in our visitor numbers show how popular the event has been.
"We hope to work with the council on a similar project again in the future."