Sailing club member from Ashby gets Royal seal of approval as he collects Outstanding Contribution award
By Ashby Nub News Reporter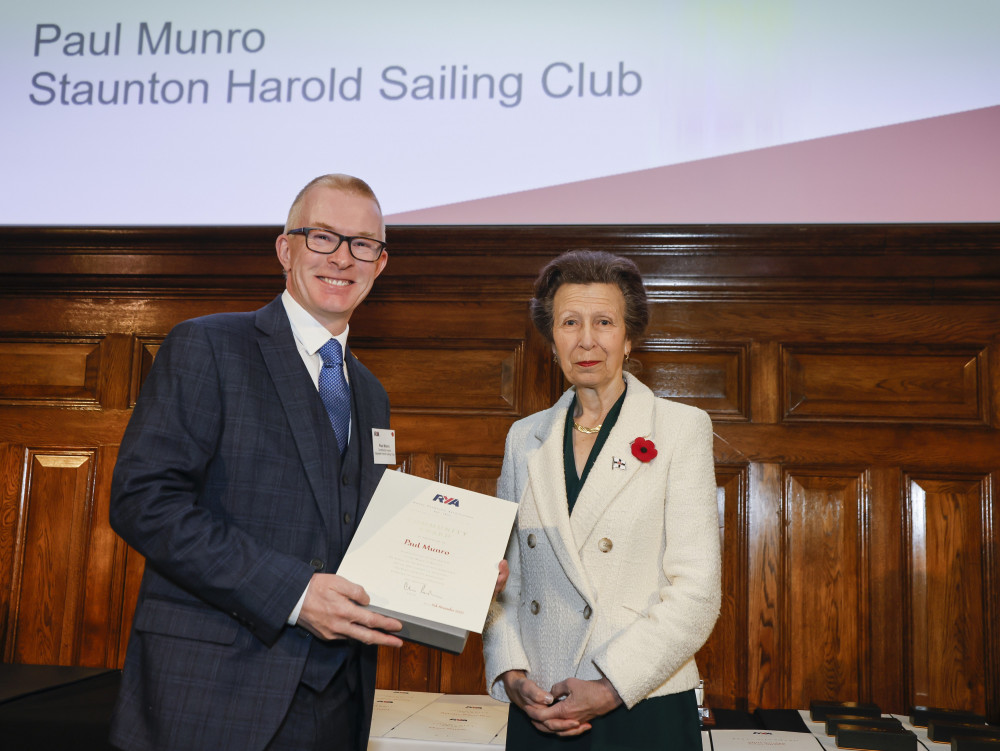 Paul Munro receives his award from HRH The Princess Royal. Photos: Paul Wyeth, RYA
An Ashby-based volunteer from Staunton Harold Sailing Club has been presented with an award by HRH The Princess Royal, President of the Royal Yachting Association (RYA), in recognition of his dedication to the sport.
Paul Munro was among those honoured at a glittering RYA Volunteer Awards ceremony held at One Great George Street in Westminster, London, earlier this month.
The RYA is boating's national governing body and 48 RYA Volunteer Awards were presented to recipients from across the UK in recognition of their services to boating.
Paul was presented with an RYA Community Award for Outstanding Contribution.
A member of Staunton Harold Sailing Club for 15 years, Paul is an RYA Senior Instructor and Principal of the Sailing School, helping to run courses and Junior Squad weekends, and has also recently qualified as a Power Boat Instructor.
Under his leadership, the focus is on developing life long sailors who go on to join a sailing club, and during the pandemic, he adapted the courses to instruct adults in single-handed boats so training could restart at the earliest opportunity.
In its citation for the award, the club added: "Inspiring a love for sailing and ensuring young sailors forge great sailing friendships, Paul's enthusiasm and management set the tone for a thriving junior section.
"He became Sailing School Principal in 2017 and his passion and professionalism have ensured that the sailing school has flourished. Paul has made an exceptional contribution to the club, spearheading, and supporting the club's instructor resources and encouraging keen sailors to develop their own sailing and instructing skills."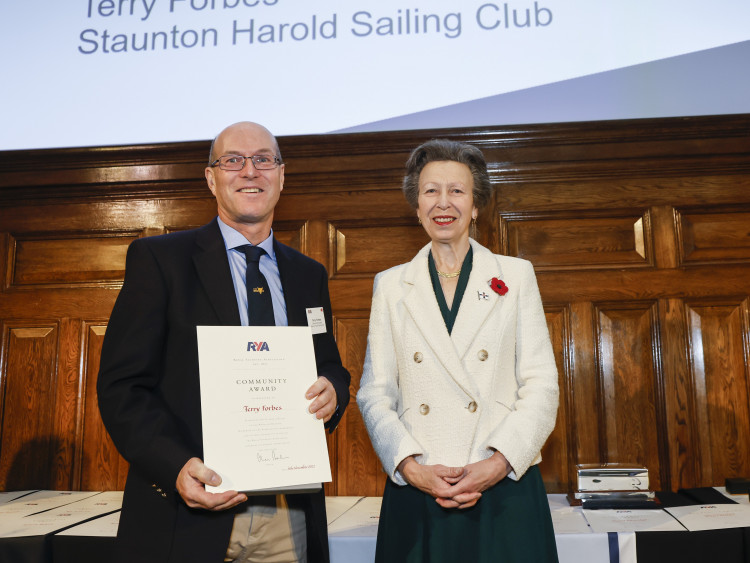 Terry Forbes of Staunton Harold Sailing Club also collected an award
Paul said: "I learnt to sail at Staunton Harold aged 40 with my wife and two daughters.
"The club was very friendly and supportive, and it seemed natural to join and take part in activities, developing our sailing skills along the way.
"Pretty soon we were helping run shoreside junior training before achieving instructor qualifications so we could help on the water too.
"I have a wonderful team of instructors and helpers who give their time freely to bring on the next generation of sailors and it's a real pleasure to be part of the SHSC community."
Paul was joined by Staunton Harold club colleague Terry Forbes, of Newton Solney, who received an RYA Community Award for Lifetime Commitment.
As Rear Commodore Maintenance at the club since 2001, his role has included managing large extensions to the clubhouse and boathouse, rewiring the training room and looking after any other facilities-related issues, including budgets and all the latest health and safety advisories. He also regularly helps to run club racing.
Club spokesperson Ann Nugent said: "Terry ensures that sailing is made possible and runs smoothly in every way, inside and outside the clubhouse.
"Terry's 'can-do' attitude and generosity of spirit always sees his annual working parties packed with members and every activity is carefully planned. With his years of expertise and ability to find
sailors with a multitude of useful professions, he has ensured the club and its facilities are kept in pristine order, and as cost-effectively as possible."
Terry, whose career background is in construction, said: "I used to be a windsurfer but when my knees started hurting I took up sailing at the age of 35.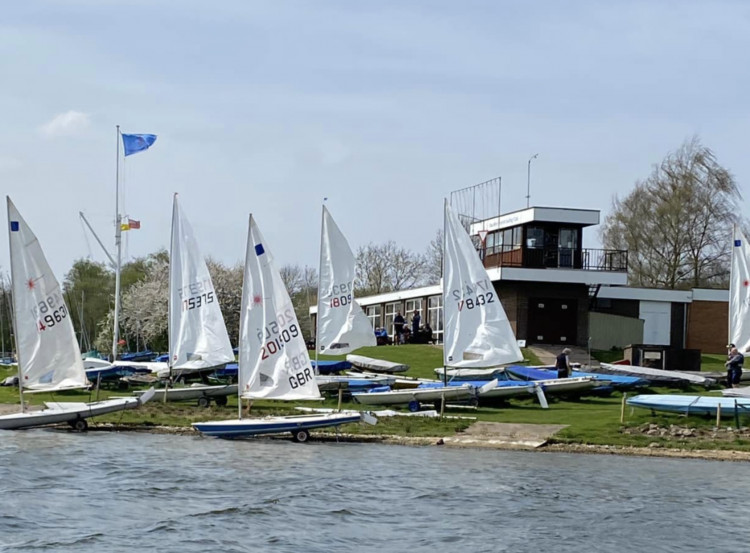 Staunton Harold Sailing Club
"I turned up at the club, they showed me how to rig a boat and I was in a race within 20 minutes!
"It's a very family friendly club with great racing and training, so three months later when they asked for people to go on the committee, I volunteered.
"The club is run by the members, for the members, and I just think the more you do, the more you can do."
RYA Chief Executive Sara Sutcliffe MBE said the commitment and dedication of this year's RYA Volunteer Award recipients was outstanding: "Each and every one of our award recipients has been an inspiration to us all and it is my great pleasure to recognise their contributions and achievements."
Find out more about Staunton Harold Sailing Club HERE or for further information about the RYA Volunteer Awards and this year's recipients, click HERE.