New wartime poppy painting by Ashby artist takes pride of place in Memorial Garden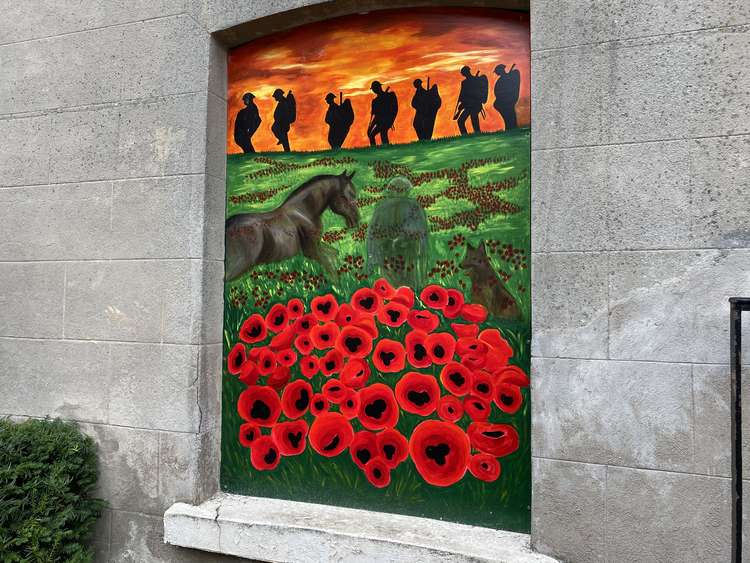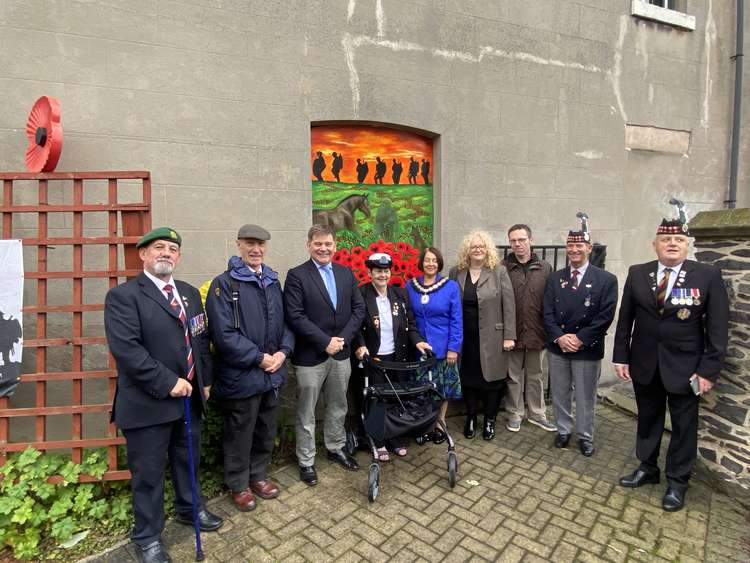 Local dignitaries, the Royal British Legion and the Ashby Arts Festival were all represented at the unveiling. Photos: Ashby Nub News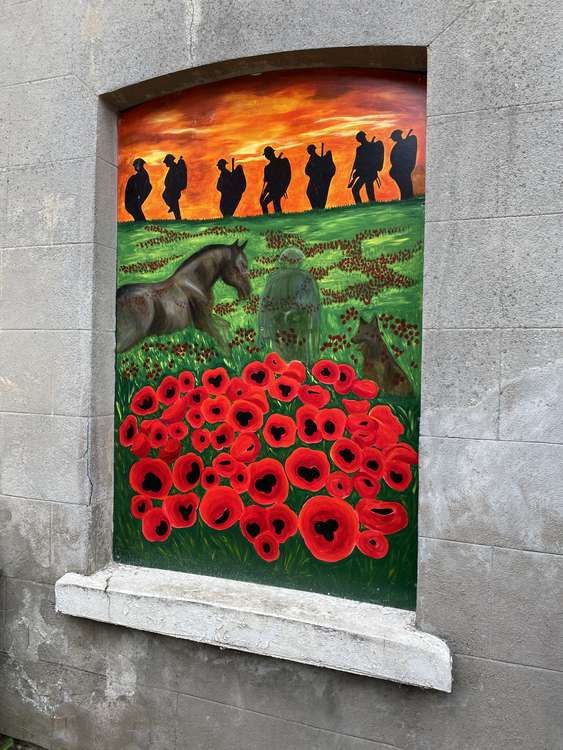 The painting fits into a window space in the building used by Costa Coffee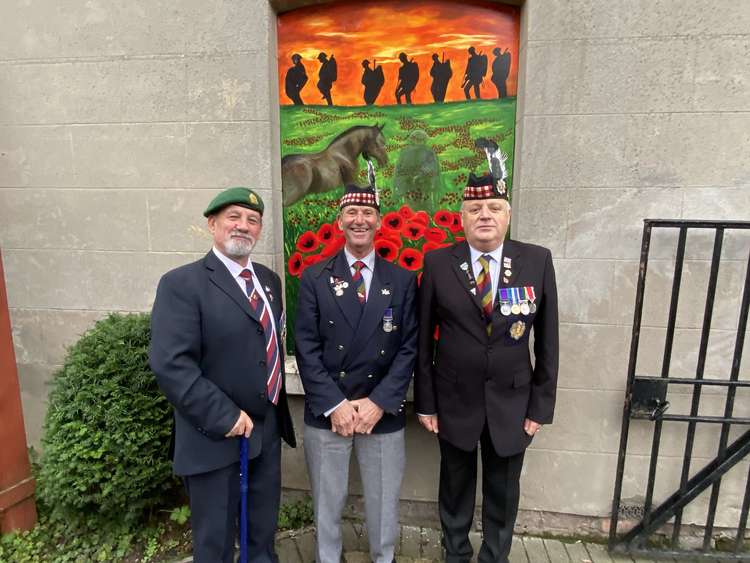 Kelvin Young, treasurer of the Ashby Royal British Legion, Tommy Millar, from Basingstoke RBL, and Alec Moore, also from the Ashby branch, in front of the new artwork
A new painting by an Ashby artist has gone on display in the town's Memorial Garden - depicting the roles played by both soldiers and animals during World War One.
Katy Ferrari designed the evocative artwork which has been installed in an empty window space in part of the Costa Coffee shop in Market Street.
She has created a scene where a fallen soldier is flanked by a war horse and a working dog, amid poppies, looking to their comrades in the distance.
Katy's work - she is known as an animal artist - was completed free of charge and can be seen from the Brook Street entrance to the gardens.
Margaret Jones, treasurer of Ashby Arts Festival, said: "I think it manages to be both colourful and respectful of the location that it's in, and the meaning it has in this place, I hope it stays in place for many years."
Ashby Mayor, Cllr Rita Manning, along with North West Leicestershire MP, Andrew Bridgen, attended the official opening last weekend.
Cllr Manning said: "It's a wonderful addition and Katy's obviously a very talented artist.
"It depicts the soldiers, but also the animals, and we sometimes forget them and what they did during wartime.
"It's an excellent choice of artist and painting - and it was important to get it in place before Remembrance Sunday next month.
"I'm very pleased with it, and town should be proud that there's someone in Ashby who's done this for us.
"Everyone has played a part in this. The Ashby Arts Festival is very special when we get the boards up and this is a special extra addition."
Margaret added: "Katy is a big supporter of the Arts Festival and also of improving the town.
"She was delighted to do this and has done a fantastic job.
"Now that I've seen it in place, it really brightens the location and makes a big difference.
"It's something that we at the Arts Festival feel quite proud of.
"Everyone says, the boards go down each year, how much they miss them and that they wish they could stay up all year.
"In certain locations, there are possibilities to do something like this.
"But in the supporting the Royal British Legion and Remembrance Sunday, it couldn't be better."