Co-op local cause Ashby United Community Football Club are making mental health and wellbeing a priority
The club is also aiming to expand its age groups and has set up a soccer school for youngsters
---
By Graham Hill
Posted: Tuesday, 01st February 2022 3:28 pm
---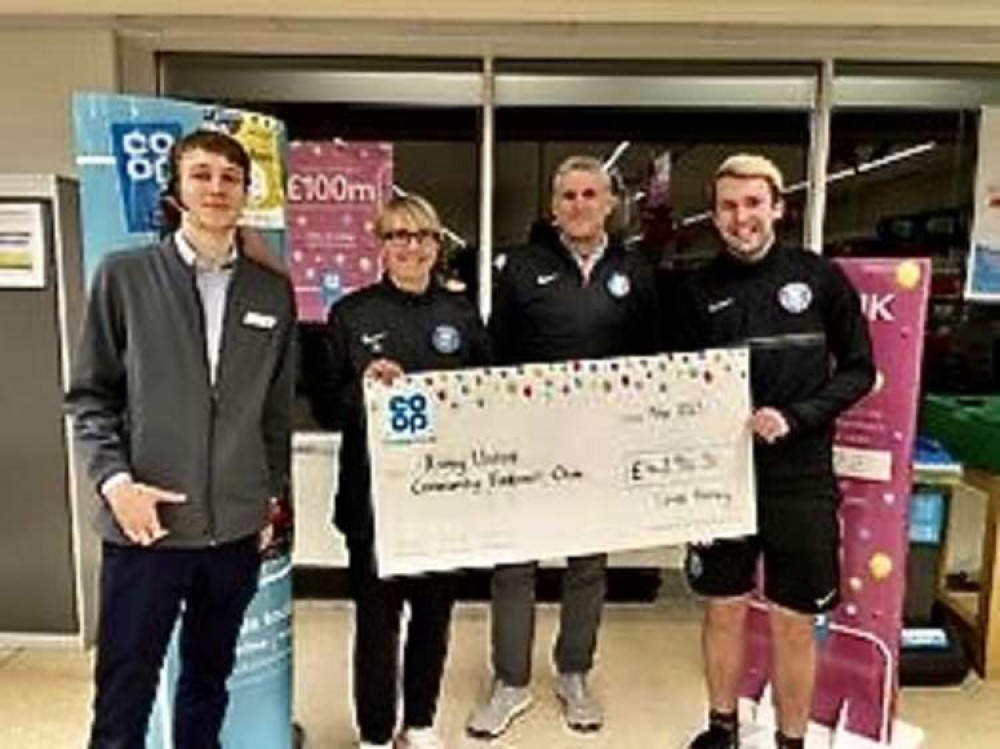 The payout to Ashby United FC was made by the Co-op last Friday
Moments that matter
Ashby United FC have launched a 'Community Kickabout' session to help people's mental wellbeing and create a feeling of togetherness.
The club are one of the Co-op's chosen Local Community Fund causes in the North West Leicestershire area.
And they received their payout at the Co-op in Derby Road last Friday.
Co-op members in Ashby are helping to fund the project's activities by selecting them as their Local Cause to support.
This means that every time they buy selected Co-op brands and products, they are also contributing to the Community Kickabout.
The 'Kickabout' sessions take place each Monday at a local school's astroturf pitch.
All age groups are welcome and it is completely free.
Ashby United organisers explained why it was set up and a spokesman for the club said: "It does exactly what it says on the tin, just a free, fun kickabout for anyone of any background, age, gender or ability.
"If you're not part of a club or a team and just fancy a casual kickabout, then everyone is welcome.
"We also have a coaches forum where we can talk about mental health and welfare.
"We don't have anyone who's been left out."
The first session was held in April and it has continued on a weekly basis from there. Players have to register in advance, which is a one-time only requirement.
The club's organisers believe that sport should be inclusive to all and Ashby United Community Football Club has become a bronze accredited member of the North West Leicestershire Inclusive club scheme.
This is an accreditation scheme that helps sports clubs to become more disability friendly.
Ashby United says that one of the main reasons that people with disabilities do not take part in sport is because they do not know what is out there for them, and they worry they will not be good enough to take part.
To try and break down these barriers the club has committed to the following: a Disability Activator, so that any questions about the club and its opportunities can be answered; a trained team so that club members are more confident at reaching and supporting people with disabilities to take part in sport.
Ashby United say they also see themselves as an inclusive club and recently supported the FA's Rainbow Laces campaign which supports LGBT footballers in the UK.
An Ashby United spokesman added: "We've been way ahead of everybody else on that.
"We're welcoming and supporting of different groups.
"That's the important thing."
The club is also aiming to expand its age groups and has set up a soccer school where the entry level is age four.
From having 10 children when the club formed almost 18 months ago, there are now around 40 waiting to join.
One in four of us experience a mental health problem in any one year. That is someone in every family, workplace and friendship circle.
In the UK it is around 14 million people. That is why Co-op is working in partnership with Mind, the Scottish Association for Mental Health (SAMH) and Inspire to bring communities together to support mental wellbeing.
To help you look after and find support for your, and others, mental wellbeing, Co-op created Be Kind To Your Mind.
It includes activities from Co-op and its partners as well as general tips and how to seek support from Co-op's charity partners, Mind, SAMH and Inspire.
Please click here for more details.
If you need support with your mental health or know someone that does, the following can help:
contact Mind for support in England and Wales on 0300 123 3393 (lines open 9am to 6pm, Monday to Friday), text: 86463 or email [email protected]
text SHOUT for support anywhere on 85258
Co-op membership helps support Co-op's national charity partners and Local Community Fund causes.
When you buy selected Co-op branded products and services, 2p for every pound spent goes to you and Co-op gives the same to local communities.