Up Close in Ashby: Co-op store manager Richard tells how the Covid pandemic brought him and his colleagues closer to the community
Richard Walton is the store manager at Ashby Co-op in Derby Road, but he believes his role has changed markedly over the past 18 months
---
By Graham Hill
Posted: Wednesday, 08th September 2021 4:04 pm
---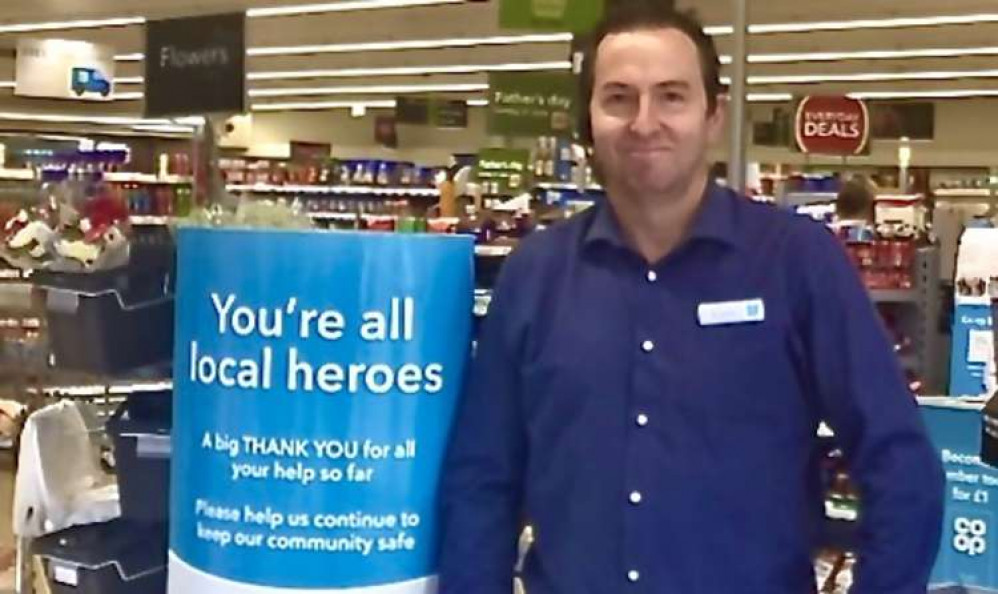 Richard Walton is the store manager at Ashby's Co-op in Derby Road
Local initiatives
Richard Walton is the store manager at Ashby Co-op in Derby Road, but he believes his role has changed markedly over the past 18 months - as his ties with colleagues and the community have become even stronger.
He believes in the ethos of the Co-op and the store has been involved in a number of projects in the Ashby area which reflect the spirit and inclusivity of the town and its people.
From marking Pride Week to the installation of a Helipads for Hospitals Big Red Bin, as well as working with its chosen local causes, Ashby's Co-op has helped a number of groups.
Richard has been working with the Co-op in Ashby for the past three years and says the experience has taught him a lot.
"I've been in retail since I left school," he told Ashby Nub News. "I'd worked at this store when it was under different management. I started out in 1986 but I've worked all over the East Midlands before this.
"It was good for me as you get to meet so many people and make friends along the way. It's a great journey to go on.
"In the last couple of years, I believe I have made a big difference in supporting our colleagues in what we've all had to go through.
"My role has changed. You're not just about being a manager and making sure things are on the shelves and serving the customers.
"My colleagues have stepped up and have been amazing.
"We couldn't have got through that period without those colleagues going the extra mile, while staying safe, and supporting the Co-op, the store and the community."
Richard says he divides the most enjoyable part of working for the Co-op into two sections.
"The colleagues are the biggest part of the job. You have to build that rapport with your colleagues, you need to get to know them, but they have to get to know you," he said.
"You have to work on the trust side of things and then build friendships. It's important that we do that.
"But it's also about serving the community, that's massively important. The Co-op brings that to the forefront. When you go into its ethos you begin to understand it more and more.
"It's a learning curve and you enjoy it as you believe it's what the Co-op is all about. Then you can begin to understand the bigger picture of what the Co-op is striving to achieve.
"It's not just about making money or the profit, it is members-owned and it's about doing the right thing for them, the community and the people that work for us.
"Working with the community has made me realise how diverse it is. I'm learning all the time. We go into climate control and the damage it's doing.
"We are working towards a fairer world. We felt it was the right thing to do as it's a bigger picture than just money in the till.
"There's a wider world and it's how we can help local causes, the community, Fairtrade, carbon footprint, then we go into recycling, sustainability and the values of the Co-op."
Richard says that, in Ashby, the Co-op has taken an active part with local litter pickers, recycling and helping local causes.
Co-op members help thousands of grassroots community projects through the Local Community Fund by selecting a cause to support.
For every £1 members spend on selected Co-op products and services, 2p will go into their membership account – and Co-op gives the same amount to support community organisations and local causes.
This year, Co-op members in Ashby are supporting local causes, Ashby United Community Football Club, Ashby Willesley Primary School and the Phoenix Children's Foundation based in nearby Packington.
"We also celebrated Pride Week and held a Superheroes Day in the store where colleagues dressed up and helped us raise money for Mind ," added Richard.
"We're also selling cookery books in store for the Willesley Primary School and for Helipads for Hospitals."
Richard says the store reacted immediately to the Covid pandemic and have continued to do so.
"We've provided a safe and secure environment in which to shop in," he said.
"That's made a massive difference for the community, and we've controlled that with Covid rules and regulations.
"Plus we've done shopping for vulnerable customers as well, where they've called us to ask if we can deliver.
"I was going out to a lady with shopping every couple of weeks as she had nobody, all her family was far away and they couldn't get to her. You build up a relationship with those people."
Richard says the store is also involved in a number of other recycling and green campaigns.
"We have recently introduced the soft plastics recycling in the store. That's the next big step with recycling, you can talk about tins and cardboard, but soft plastics is something that no-one's been able to recycle properly," he said.
"So we're advertising it in the store at the moment, people can bring their plastics in and we send it back to our depot for recycling. We recycle batteries as well, and we also have a food waste partner which we give food to rather than it go to landfill. It all makes so much more sense.
"Also, we will be having an electric van for our home delivery services in the future."
Co-op membership helps support your local community, with great rewards for you too. When you buy selected Co-op branded products and services, 2p for every pound spent goes to you and we'll give the same to local communities. Join us today online or in-store.