UP CLOSE in Ashby: Co-op Member Pioneer Zoe Richardson
Ashby Nub News aims to support our community, promoting shops, businesses, charities, clubs and sports groups.
---
By Graham Hill
Posted: Wednesday, 14th July 2021 5:55 pm
---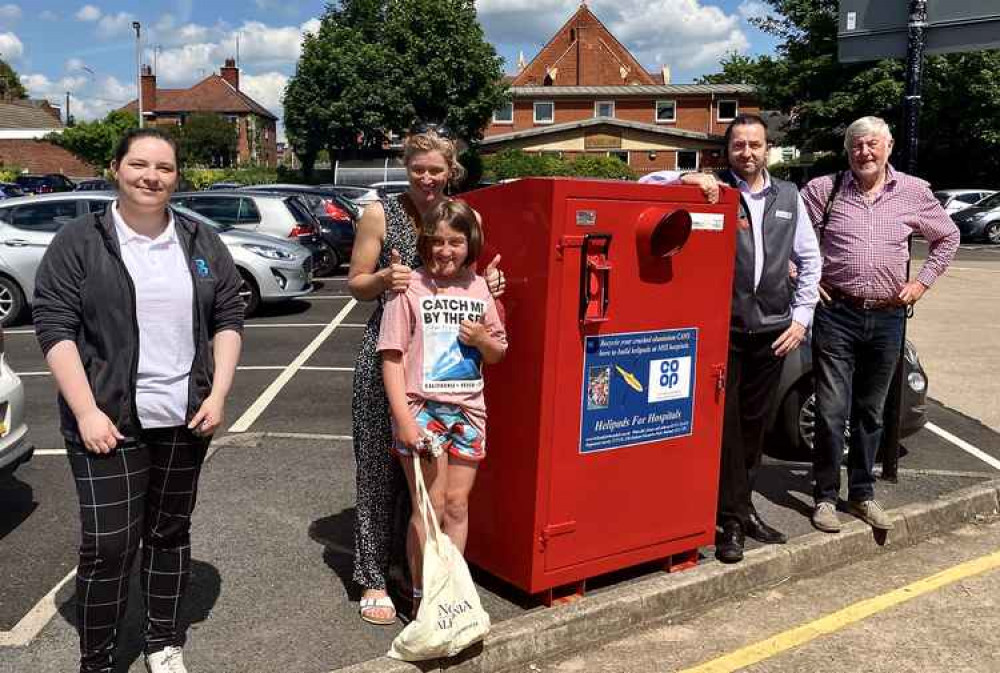 Zoe at the unveiling of the Big Red Bin at the Derby Road Co-op in Ashby
Local initiatives
Ashby Nub News aims to support our community, promoting shops, businesses, charities, clubs and sports groups. We will be profiling some of these businesses and organisations regularly in a feature called 'Up Close in Ashby'.
Zoe Richardson is the Co-op Member Pioneer for Ashby and Moira and has been in the role since late October.
During that time, the university graduate has been working with the community and the Co-op causes in the area.
This year, Co-op is working with Ashby United Community Football Club, which was only formed a year ago, Ashby Willesley Primary Schooland The Phoenix Children's Foundation in nearby Packington.
What is a Member Pioneer? They bring together Co-op Members, colleagues and local causes to make communities a better place to work, play, live and learn. They connect like-minded people and offer practical advice.
Zoe, from Measham, gave Ashby Nub News an update on what her work with the Co-op has involved over the past few months.
"To start with a lot of it was getting to know community and reaching out to groups. But it's evolved a little bit more from there. Part of my job is getting in touch with people and offering support in what they are doing," she said.
"As time's gone on, I've been able to get a bit more involved and one of the first things I did was the Fairtrade Fortnight."
Fairtrade Fortnight is where the Co-op joins forces with thousands of individuals, companies and groups across the UK to share the stories behind the people who produce some of their products. The focus of the Fairtrade Fortnight 2021 campaign is climate justice.
"The co-op has a long-standing tradition with Fairtrade, normally we would have had taster sessions in the stores, but obviously with COVID we haven't been able to do that," explained Zoe.
"But I put together a puzzle book about Fairtrade, and both the Ashby and the Moira stores had those. People got involved, had a go and did the quiz at the end. We were able to hand out some socially distanced prizes at the end of that.
"That was one of the early things that I was able to get involved in. After that it was more about meeting people and working with the Local Causes."
The Co-op Local Community Fund supports projects across the UK that its members care about. Every time its members buy selected branded products and services, the Co-op give local causes a helping hand.
"We have three fantastic causes in this area. They're all busy and working really hard, it's been really good to go out and meet them to see for myself what they're actually doing," said Zoe.
"They cover a real cross section of the community, with all of them doing different things and providing different kinds of support to the community. It's nice that we have a bit of a range, they're all local and they're really lovely people.
"We have Ashby United Community Football Club. They are a newly formed football club and wanted funding to help provide equipment, the kind of things that every club needs.
"But they also want to be inclusive, that's part of their message. They took part in the Rainbow Laces campaign, they do a lot to make sure boys and girls are able to play, they also cover a wide range of ages. They've organised a Community Kickabout Programme, and lots of other things along those lines. They're really involved in being a part of the community.
"We also have Ashby Willesley Primary School, and they wanted funding for storage for equipment outdoors. Previous to the Coronavirus pandemic, they also had a major flood at the school. They weren't able to do any fundraising, and then we had lockdown coming in straight after that. So they really weren't able to do any other events that they would normally able to do.
"They were still trying to replace some of the damage that had been done to some of the equipment that was damaged in the floods. That's why they applied for the Local Community Fund. They also produced a lockdown cookbook.
"Another local cause is Phoenix in Packington, and the funding for them will go towards a garden area and a memorial area for those people lost to Coronavirus."
Zoe's general duties also involve being involved in one-off Co-op projects such as the installation of a new Helipads for Hospitals Big Red Bin at the Ashby Co-op in Derby Road. The distinctive Bin will be used for the collection of used aluminium cans and is situated in Co-op car park.
People can bring their used cans to the bin and dispose of them there before they are recycled. "To start with a lot of the role was promoting membership, not everyone knows they can pick a cause, so it's trying to encourage people to remember to use their card or sign up for membership," added Zoe.
"There are other things as well, for example, the Big Red Bin that was donated to the Co-op and is situated in the car park.
"I can get involved with any group which helps the community, such as the Ashby Litter Picking Heroes, they are quite prominent in the community and it's something that people care a lot about.
"The co-op also has three main aims this year, with projects that they're looking to promote more. Projects that support to the fair access to food for everyone, support better mental wellbeing and support opportunities and skill development for young people."
You can contact Zoe on 07815659880.
If you've got any ideas on how Co-op could help your community, or want to know what Co-op is doing near you then contact the Co-op Member Pioneer Co-ordinator for your area, who will then put you in touch with your local Member Pioneer.