Three Ashby area organisations benefit from being Co-op chosen local causes
Three local causes in the Ashby de la Zouch area will receive funding from the Co-op next year
---
By Graham Hill
Posted: Monday, 04th April 2022 3:00 pm
---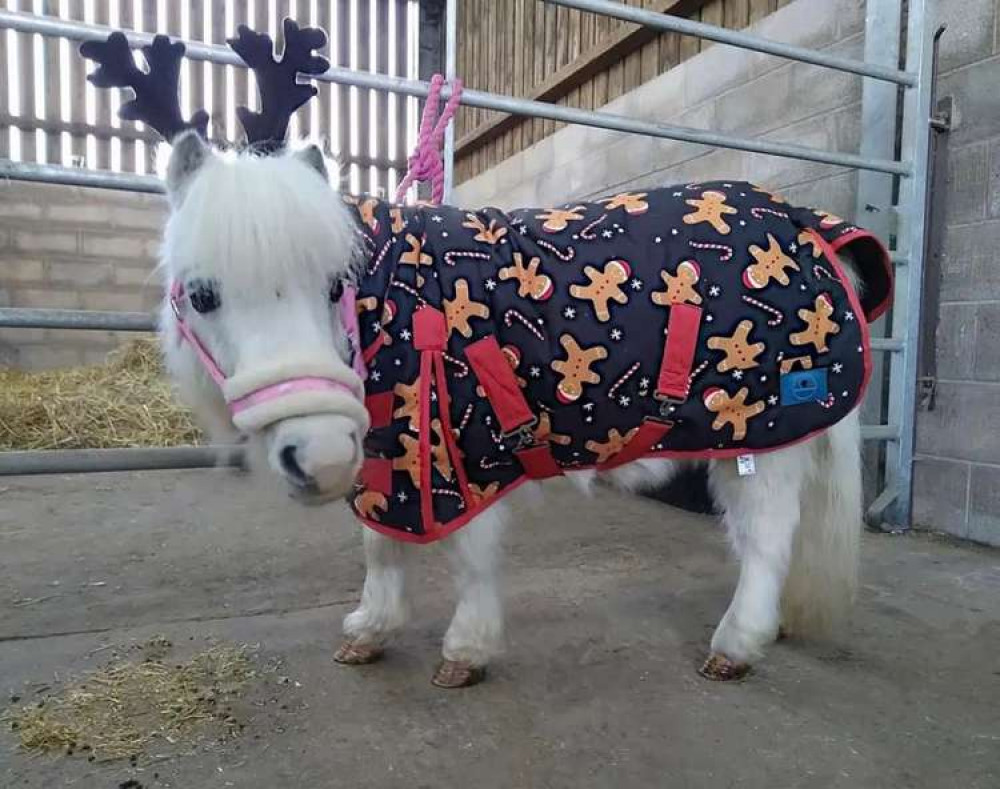 One Phoenix Foundation's ponies gets ready for Christmas
Local initiatives
Three local Ashby community causes benefitted from donations that have helped their work when the Co-op's annual fundraising campaign reached its conclusion.
Each year Co-op stores ask local people to nominate deserving community causes and three are selected to benefit.
When Co-op members buy selected Co-op products and services, 2p for every £1 they spend goes into their Co-op Membership account and the Co-op gives the same amount to support community organisations and local causes.
The three local causes to benefit in 2021 were Ashby Willesley Primary School Parent/Teacher Association, Ashby United Community Football Club and The Phoenix Children's Foundation.
The Willesley PTA is a Parent and Teachers' Association raising money for the school, its pupils and the local community.
Providing a multi-use games area has enabled them to improve the school's extra-curricular activities, and the area itself can be used by external providers to educate children.
The Phoenix Children's Foundation, based in Packington, was established in 2006 with the sole aim of enriching and enhancing the lives of young people living with illness, disability, or lack of opportunity.
The Foundation owns a small menagerie of animals, ranging from alpacas to Shetland ponies, all of whom help to provide young people with opportunities to grow emotionally and learn through animal assisted activity.
It was awarded more than £6,000 by the Co-op to fund a bluebell wood in Packington.
Clare Smith, of the Phoenix Children's Foundation, said: "We wanted the wood in memory of the pandemic, to mark anyone's loss during Covid and make it a remembrance walk with little plaques along the way.
"That's what we approached the Co-op with and what they gave us was past our expectations, and the Ashby Co-op Pioneer, Zoe, went above and beyond to help us.
"But we were also able to put a bit of money towards our work with special needs and disabled children who come our stables to take part in activities."
Ashby United CFC is a community focused amateur football team looking to give opportunities to local people - awarded just under £4,300 by Co-op to progress the club which only formed during the first lockdown.
The club are trying to lead a sporting hub in our town, called Ashby Sport, linking with the rugby, hockey and cricket clubs to promote a healthy lifestyle and social interaction among people of all ages.
Ashby United are an inclusive club focused on giving back to the town's people.
Businesses, children and adults all benefit socially from a community spirit and the participants themselves benefit from physical and mental wellbeing.
The club's organisers believe that sport should be inclusive to all and Ashby United Community Football Club has become a bronze accredited member of the North West Leicestershire Inclusive Club scheme. Co-op Members help thousands of grassroots community projects through the Local Community Fund by selecting a cause to support.
Since 2016 Co-op Members have raised more than £85m for over 25,000 projects.
Supporting these local causes aligns with the Co-op's mission of fairer access to food, mental wellbeing and opportunities for young people.
Select your local cause today at coop.co.uk/local-causes or go to the Co-op App. Co-op Membership helps support Co-op's national charity partners and Local Community Fund causes. See HERE.