Mighty Quinn uses his head to seal Ashby Ivanhoe Vase victory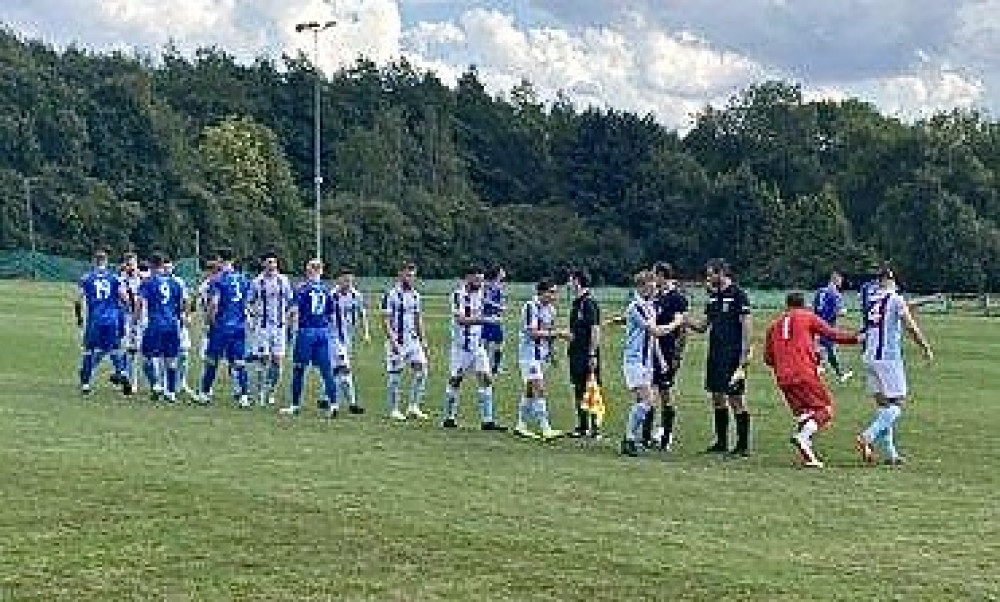 The teams line up to shake hands before the game
Ashby Ivanhoe 1-0 Malvern Town
Dan Quinn's header was enough to send Ashby through to the next round of the FA Vase on his first appearance since returning to the club.
Facing a strong side from a league above with many absentees, Ivanhoe could have been forgiven for struggling this afternoon.
However it may turn out to be one of their strongest performances of the season.
For much of the first half however, it was the visitors who were stronger.
Their closest chance came when Joe Bates effort at the back post was sensationally blocked on the line by Chris Acott.
Acott, who has started alongside Sam Grouse up top on a number of occasions this season was forced into left back this afternoon in the absence of Harry Stewart.
But he was able to hold his own as Malvern focused their attacks predominantly down the right.
The visitors had another chance to lead when forward Harry Clark fired goalward from inside the penalty area, only to see his effort strongly saved by goalkeeper Tommy Dyche, who has made a strong start to the season between the sticks.
Ashby's best chance of the half came as Acott's floated free kick was poorly dealt with, the ball falling at the feet of the prolific Sam Grouse, who could only fire over on this occasion.
Ashby started the second half strongly, coming close through Will Groocock who saw his shot smothered from close range by Kieron Blackburn after Grouse unselfishly squared the ball instead of
taking the shot on from a tighter angle.
Just after the hour mark though, Ashby made the breakthrough. Acott's corner found the free head of Quinn, who rose highest to give the hosts a deserved lead on the balance of the half.
Manager Andy Gray admitted after the game that Quinn was struggling for match fitness and commended the performance and effort of the returning striker.
He said: ''Whether he'll be able to walk for a few days I don't know, but to come back and get the goal is fantastic."
Much of the remaining half an hour was spent in Ashby's half, however the visitors struggled to create many chances. Captain Adam Stauntson came closest, but his header was held onto by Dyche, who commanded his area well in the dying embers of the game.
A fantastic result for Ashby who return to action on Monday, in a bank holiday clash against Bilston.
Bilston have made a strong start to their campaign and will be a stern test for Ivanhoe, who will be full of confidence following today's performance.