Ashby Ivanhoe suffer late agony after being reduced to 10 men in top two battle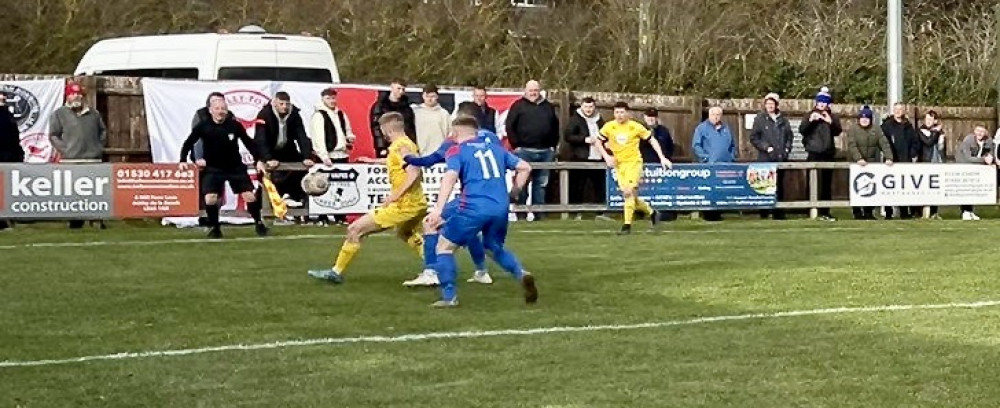 Action from Ashby Ivanhoe's defeat to Dudley on Saturday
Ashby Ivanhoe 0-1 Dudley Town
Ashby manager Andy Gray jokingly admitted that opponents Dudley would be ''brought the trophy to celebrate with on the pitch'' after his side fell to their Black Country opponents.
It was a late strike by Dan Danks which condemned Ivanhoe to defeat in front of over 400 people - the club's biggest attendance of the season.
An even game throughout, the match sprang into life late on as Jake Conkay saw red for the hosts, quickly followed by Danks' winning strike.
In a wind-affected contest, the first half saw both teams have a single sight of goal, on both occasions, however, they failed to convert.
Inside the opening 10 minutes, Josh Thomas saw the ball fall at his feet inside the penalty area.
Ashby's winger got his shot off, but had his effort denied by Ethan Hawkes, who saved well with his feet.
At the other end, Dudley saw their best opportunity rattle the crossbar.
Despite the rebound falling to the feet of an attacker, he was unable to maintain balance and convert an easy chance.
Dudley controlled much of the possession after the break, but it was Ashby who came closest as Will Robson headed against the crossbar.
Robson's chance aside, the second half was tough sledging for Ashby, who failed to provide support to the usually dynamic pairing of Sam Grouse and Will Groocock.
Their frustration boiled over when Conkay was shown a red card with 10 minutes to play.
Arriving late to the ball, Conkay was deemed to have challenged high by the referee, who gave him his marching orders.
When asked about the decision after the match, Gray had no complains, stating that it was the correct decision.
Sitting two points behind Dudley going into the match, a draw would have left the title out of Ashby's hands.
With this in mind, Gray's team did not change their attacking mentality after losing Conkay.
They were made to pay as the clock struck 89 minutes.
Taking advantage of the hole at right-back, Harry Crook picked up the ball on the left of the six-yard box, squaring to Danks who only had to slot into an empty net.
There was no question as to the importance of the goal with Dudley's entire squad running over to celebrate with the dugout.
Gray said at full time: ''It's out of our hands now, the five-point gap is a big one, we'll have to see what happens, but we'll do our best.''
There is no time for his side to dwell on the defeat as they travel to high flying Hinckley next week.
Ashby's opponents are the league's top goalscorers and will be out for revenge after being defeated by Ivanhoe twice this season.