Ashby's Santa Fun Run and Walk returns this winter - with around 1,500 Father Christmases set to take part in a sea of colour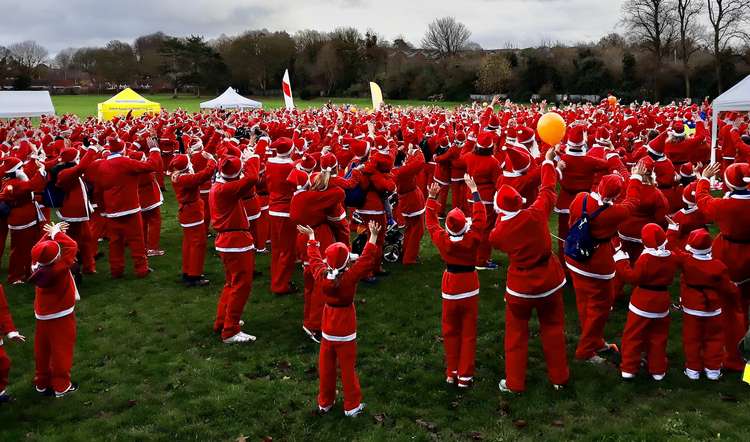 Around 1,500 Santas gathered for the event at the Bath Grounds in 2019. Photos: Ashby Castle Rotary Club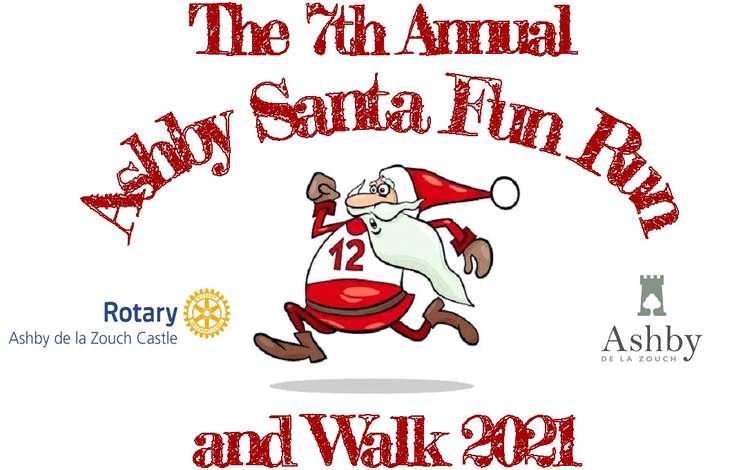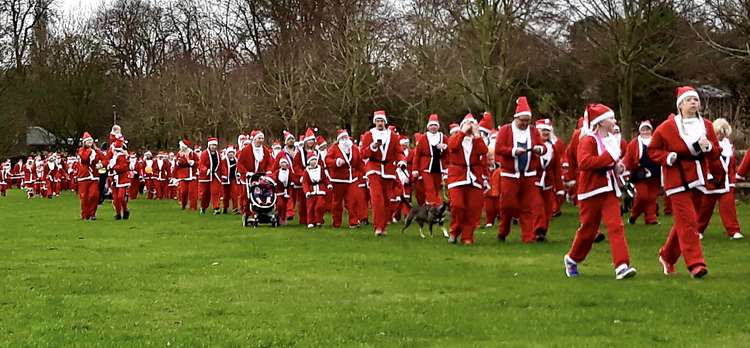 The line of Father Christmases stretched out across the Bath Grounds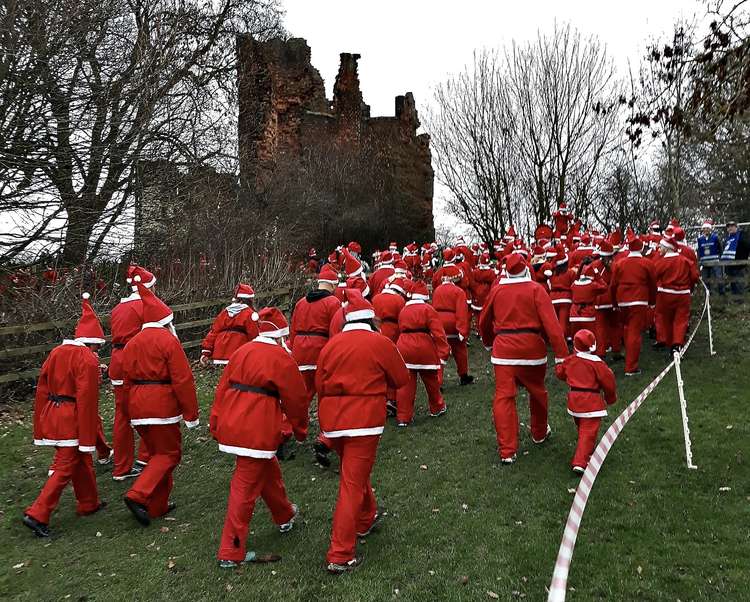 The route took them past Ashby Castle
Ashby Castle Rotary Club have announced the return of the Ashby Santa Fun Run & Walk which will be staged on Sunday, December 5.
The event, which has been running since 2015, had to take an enforced break in its traditional form in 2020 due to Covid restrictions, where they switched to an online family Christmas workout.
But the organisers have confirmed it will be a more traditional format this year.
Always a popular event in the Ashby Christmas calendar, 2019 when it was last held as a Santa Fun Run and walk saw just under 1,500 Santas enter - with over £12,500 raised for charity.
For many, this event coupled with the Ashby Christmas lights switch on event over the same weekend marks the start of the festive season.
There will be some changes to this year's event, but the same level of fun is promised for all entrants.
Whereas in previous years, all entrants have received a Santa suit, the Rotary Club have decided for environmental reasons to stop this practice to reduce the amount of single use waste produced at the event.
However, they are asking all entrants to dress up in their brightest Christmas gear - be it their own Santa suits, Christmas jumpers, reindeer suits or anything else that shouts Christmas.
To reflect this, there will be a reduction in entry fee to just £6 for all age groups which helps to cut the cost to all in what has been a challenging year for many.
All entrants will receive a 2021 event medal and all Christmas dressed kids will get a free chocolate bar.
There will be plenty to entertain down at the Bath Grounds on the day with the normal fun workout before the event starts, Christmas music for the duration of the event and a visit from the reindeer from the Phoenix Children's Foundation.
There will be plenty of refreshments provided also on the day with Ashby Hastings Cricket Club providing refreshments and along with Biddulphs Pizzeria.
The Rotary Club are also delighted to announce the return of their partnership with their friends at Sweet Memory Lane traditional sweet shop in Ashby and all Christmas dressed entrants will be able to collect a post event Christmas treat.
The main charities set to benefit from this year's event are Hospice Hope, Home Start and Steps.
The event takes participants on a 3km route of Ashby taking in some of the town's picturesque sights, starting and finishing on the Bath Grounds.
The fun starts at 10:45 with a fun warm up routine to some famous Christmas songs before the event formally starts at 11am.
The Rotary Club will again be encouraging Fun Runners and Walkers to collect some personal sponsorship for taking part in this event - but this continues to remain optional.
To help to raise even more money for the very worthy causes a downloadable sponsor form will be available on the event website to allow people to raise personal sponsorship to take part in the event.
Dale Warren from the Rotary Club of Ashby Castle said: "After not being able to put the traditional Santa Fun Run & Walk event on last year, we're absolutely delighted to be deep in to the planning of the return of this year's event.
"It's great to be working with Ashby Town Council again to help provide something that really brings the town to life.
"We're hoping for lots of colourful Christmas costumes to turn the Bath Grounds into a sea of colour as the sight of nearly 1,500 people dressed in their Christmas gear and making their way through the town will be fantastic.
"We grow year on year and are really confident of providing another record breaking event, so it's really important to enter early to guarantee a place.
"We have raised over £55,000 in six years and this shows both the popularity of the event and the great support we've received from businesses and local people and we thank all who have helped us to achieve this."
For more information and to find out about sponsorship packages starting at just £50, please contact Kevin Sanders via email at [email protected]