Here are some of the Woodland Trust areas you can enjoy in and around Ashby and North West Leicestershire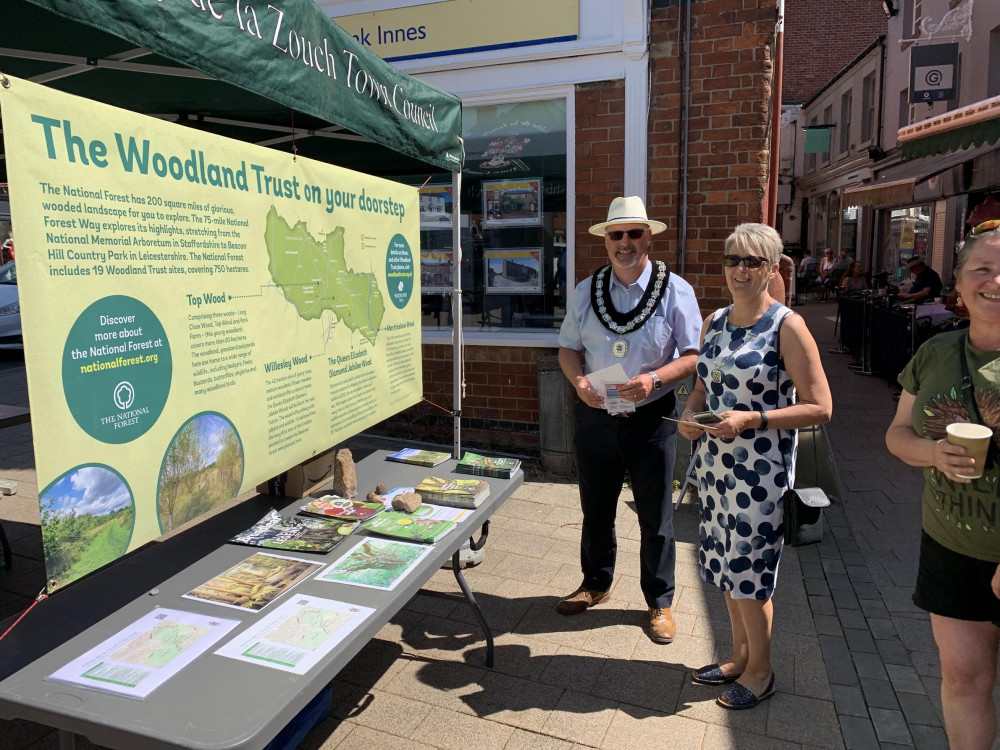 The Mayor and Mayoress of Ashby at the recent Nature Awareness Day
From Ian Retson of the Woodland Trust
The National Forest passed its 30th birthday in 2021 without too much fanfare, but the results have been very impressive from increasing woodland cover from six per cent to over 22 per cent, planting nine million trees and attracting the sane number of visitors every year.
The increase in biodiversity is astonishing both in richness and numbers of species from birds to otters and butterflies.
The Woodland Trust are celebrating their 50th anniversary in 2022 and are proud to be the largest owner of new woodland in the Forest with 19 woodlands covering 1850 acres (750 Hectares).
All of our woods are free for the public to enjoy quiet informal recreation.
Michael Heseltine, Secretary of State for the Environment planted the first tree at Willesley Wood near Ashby in November 1991.
Although Willesley was the first new wood to be planted, the Trust already owned other woods, including the 250 acre, ancient Martinshaw Wood at Ratby dating back to at least Norman times; we have added Burroughs Wood and Pear Tree Wood to make a continuous block of almost 400 acres with miles of paths and walking options.
Our woods range in size from tiny Georgina's Wood at Appleby Magna (2.5 acres) to our flagship Queen Elizabeth Diamond Jubilee Wood at Normanton le Heath at 660 acres, opened in 2012.
Our woods cover the entire National Forest area from Battlestead Hill on the west side of Burton on Trent to Felicity's and Martin's Woods to the north of Beacon Hill; all these woods command excellent views of the surrounding countryside.
In 1993 we planted Centenary and Tigers Wood at Bagworth where you can find a memorial to the Leicestershire "Tigers" Regiment.
Towards the centre of the Forest there is a cluster of woods with Top Wood and Penguin Woods between Linton and Coton in the Elms. Coton Wood and Foxley Wood are nearby and appreciated by the local community for their views and walks; Foxley Wood has recently been thinned in places by the Heartwood Community Woodfuel group who have worked in several of our woods.
Over the next few years, you will see some of our woods having trees taken out.
This is part of our thinning programme to improve the health of the woods, with trees of different ages growing together and providing more light to the ground for floral growth and biodiversity; it will give the wood a more natural look over time as nature decides what will grow, and where.
The Woodland Trust is the largest woodland conservation charity in the UK with over 1,000 sites in its care.
It has over 500,000 supporters. It wants to see a UK rich in native woods and trees for people and wildlife.Access to its woods is free so everyone can benefit from woods and trees. If you enjoy our woods, please help by becoming a member.