Alison Is Helping To Feed The Need Alongside Her Work At Loughborough Co-op Funeralcare
A Loughborough Co-op Funeralcare employee's care for the well-being of others and a sense of duty to her community has been her driving force
---
By Graham Hill
Posted: Thursday, 13th August 2020 8:40 am
---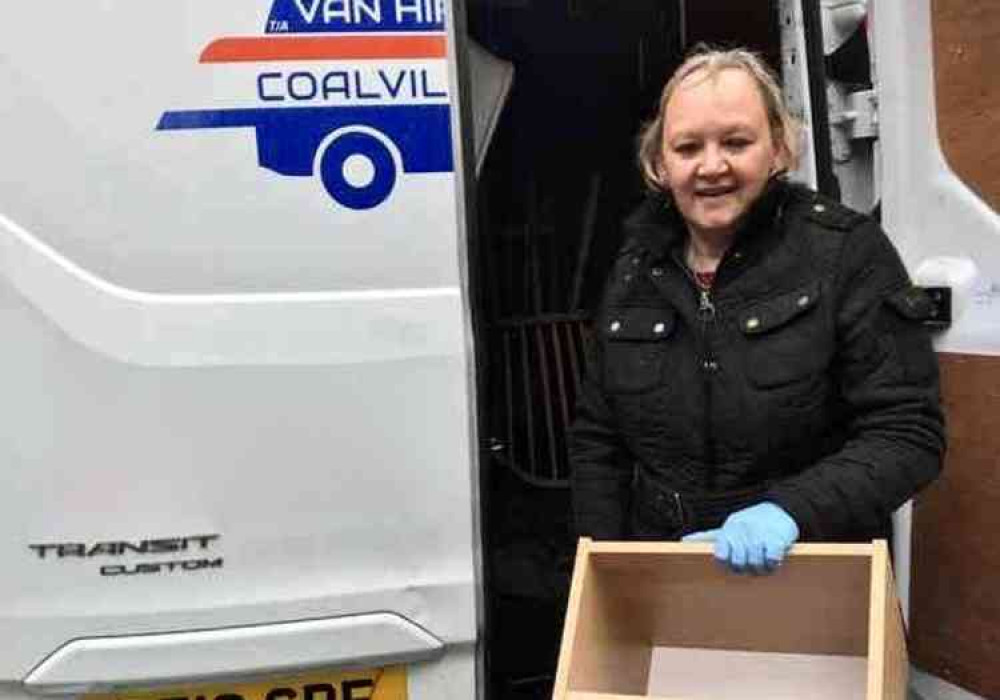 Alison Parish pictured carrying out deliveries as part of her work with Feed The Need
Moments that matter
A Loughborough Co-op Funeralcare employee's care for the well-being of others and a sense of duty to her community have been the driving force behind the work she has carried out with a North West Leicestershire food bank during the coronavirus lockdown.
Alison Parish has seen how the pandemic has affected people from all aspects of life due to her day-to-day job with the Co-op.
Alison's work life means she is involved with those who have lost loved ones as a result of Covid-19. But, in her spare time, she also has an important role with Feed The Need which helps people living in Coalville, Ashby and the surrounding area.
The charity was set up, by founder Fliss Middleton, just a few months before lockdown to help the community in the build up to Christmas. Alison became involved shortly afterwards.
But when the coronavirus pandemic struck, the food bank became an important lifeline to many people, and there has been an increased demand for the service over the past few months.
"Once the lockdown happened, we knew we wouldn't be able to hold the food bank from our regular base at Hugglescote Community Centre, which is near Coalville. We had to put a Plan B in place pretty quickly," explained Alison, Feed The Need's treasurer.
"So we operated from two hubs. One in Hugglescote with Fliss Middleton, who got me involved, and one in Greenhill in Coalville, which is where I live. It was hubs from home.
"We also had a number of fantastic volunteers coming forward to help after being put on furlough. As we got requests through, it was a case of Fliss and myself packing shopping up and putting calls out through our WhatsApp group. Then people would come to get them and deliver them, that's how it worked, simple as that."
But staging such an operation did not come without its difficulties.
"The hardest bit was getting the food in," added Alison. "We were getting through a lot of food. And there wasn't a lot on the shelves, it was traumatic and hard work with Fliss self-isolating as much as she could.
"A lot of the onus fell on myself and a few volunteers. I was doing two £400 shops a week. I couldn't fit too much in the trollies, it was quite an art getting it all in. But the fact that it was something to do, and something to focus on, took your mind off what going on.
"It's been quite an intense time.
"On one occasion in April, the charity arranged for a man's empty council flat to be furnished in just one hour after making an online appeal.
"The word went out at 8pm one Monday evening. By 9pm, Feed The Need had been met with an overwhelming response which meant the man had what he needed.
Organisers admitted they were staggered by the response which they say typifies the spirit of local people. Alison said the reaction was incredible.
"Within an hour we'd got a flat virtually filled," she said.
"During that time, we got a settee, wardrobe, chest of drawers, a TV stand, a microwave, toaster, pots and pans, cups and saucers, a bed frame, a double mattress, brand new duvet covers, brand new towels.
"And since then we've had a fridge-freezer and table and chairs.
"The amount of households we've helped has been phenomenal."
During the Coronavirus crisis, Feed The Need was helped by £8,000 grant from Leicestershire County Council - and a National Lottery Fund Grant for Covid-19 support.
"It's been spent wisely, mainly on food, but this was to feed families, not individuals, and we're still doing that," she said.
"I joined up with Fliss before Christmas, it wasn't a food bank then, it was to help people with their Christmas shopping. I had a bit of time on my hands, so I popped along and asked what needed doing.
"I took a lot of deliveries out and, after Christmas, we still kept in touch. She said she had a plan in mind! But that involved me ending up as treasurer.
"Then we started the food bank up. And we couldn't have known what was about to happen, we'd had about four sessions at the community centre before going into lockdown.
"But the community centre was so impressed with what we'd been doing, they waived the rental fee for us.
"Now we're back in at the centre again and have sole use of the hall. We have the weekly sessions up and running again and about 30-50 people are coming to us each week for help.
"We can also advise people about what financial help they can apply for.
"But it'll only be a matter of time before the community centre is open to everyone again and that'll restrict how we work.
"So we are still looking for some accommodation of some sort where we can have a permanent base and can keep the stock there and open more than once a week, or even weekends."
Alison also made it clear that food banks are not just for people on benefits.
"There are a lot of people who are in work and don't get any top-ups but, because of their outgoings, they're still struggling financially," she added.
Alison says pandemic has had a major effect at Co-op Funeralcare, based in Cattle Market in Loughborough town centre.
"Due to social distancing, you can't do the arranging as you normally would. We have to adapt and find different ways of doing what we do with what's available to us," she explained.
"It's been a totally different way of working and the funerals themselves have been restricted. We've had to try and we come up with a nice funeral for the loved ones."