Up Close in Ashby: Meet Co-op's New Member Pioneer Zoe Richardson
Zoe Richardson is the Member Pioneer for Ashby and Moira Co-op stores and started her role in late October.
---
By Graham Hill
Posted: Monday, 04th January 2021 4:19 pm
---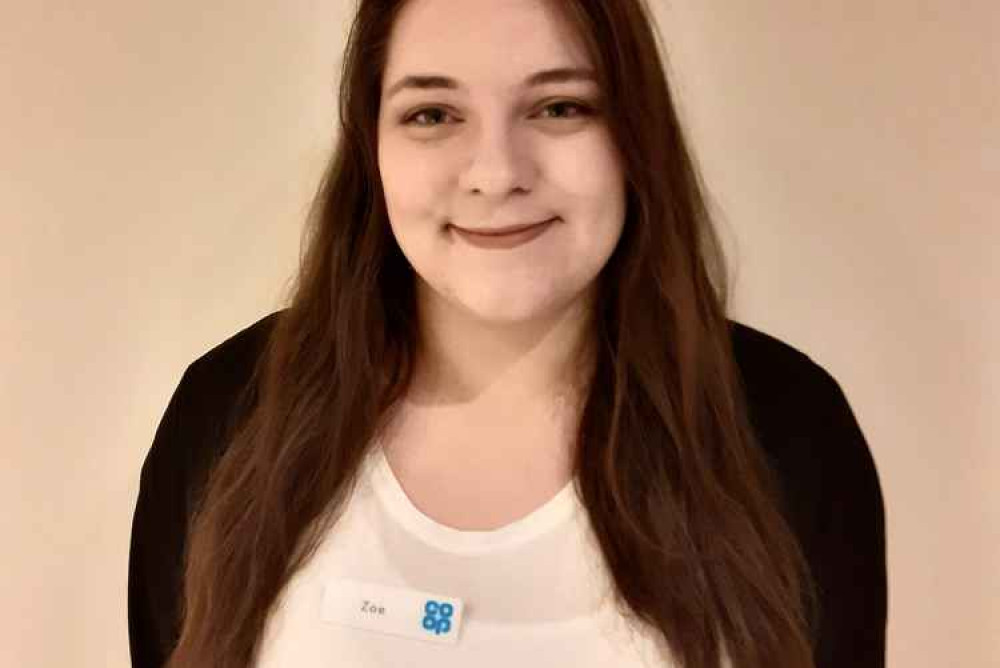 Zoe Richardson is the new Member Pioneer for Ashby Co-op
Local initiatives
Zoe Richardson is the Member Pioneer for Ashby and Moira Co-op stores and started her role in late October.
What is a Member Pioneer? They bring together Co-op Members, colleagues and local causes to make communities a better place to work, play, live and learn. They connect like-minded people and offer practical advice.
Zoe spoke to Ashby Nub News to tell us about her background and what attracted her to the job.
Can you tell our readers something about yourself please?
Of course, I have a Bachelor's Degree in Psychology and a Masters in Health Psychology, I'm one of those people who loves people, so that's what I'm interested in really.
I'm a strategically minded type, I like structure and things like that. Another reason why I took this position is that I'll talk to anyone and everyone, that's why I took Psychology. So it's turned out quite well.
I did my undergraduate degree at Goldsmiths in London, and then my Masters in Leicester at the De Montford University. I'm originally from Portsmouth, but I moved around quite a lot when I was younger, now I've settled in Measham.
How did you find out about the Member Pioneer scheme?
Somebody sent me details of the role because they said that's the kind of thing you're always talking about. It was mainly how community-based the role is, that's what really attracted me to it.
I lived in a small village before I went to university. I worked in the local shop and I volunteered at a local school. When I was a teenager I pretty much knew everyone in my local community. And when I went to London that was what I missed, just being able to talk to people you see in the street. I would be one of those people who'd try to make conversation on the Tube – I got some looks as if I was a bit mad.
Do you have a job alongside the Co-op role?
I actually used to work in a bakery behind-the-scenes, but I would sometimes pop out occasionally and start talking to the customers. Sometimes I took a bit too long to get back! That was in Alrewas, near Burton.
I moved here with my family shortly before the first lockdown. And I really love it here. Although I live in Measham, I'm in Ashby quite a lot.
I work at the KP Snack Factory as a part-time sensory panellist. I work in a team of 10 and everybody is really nice and friendly. Being in Ashby so often, I've met a lot of people. It is very similar to what I'm used to in that, if I walk down the street, people say hello to one another.
It's also nice to know what's going on in the community. In particular, during the first lockdown when everything started to close, people started to get in touch with each other. They were asking if anybody needed anything and offering to do trips for each other. That's the kind of thing I really enjoy, that's why I really like it.
When did you become the Member Pioneer for Ashby?
My first official day was October 28, most of what I've been doing so far is introducing myself to people and getting to know the Local Causes. That's been really great.
I didn't really appreciate how many things are going on in Ashby until I started contacting people, it's been amazing. Although a lot of it has been online because of the pandemic.
What are your plans with the Co-op? Is there anything coming up that you're involved in?
I will be doing a lot in the New Year and I'm looking forward to working closely with the new Local Causes from January. I want to help make a difference in my community.
To find out more about Co-op's Member Pioneers and how you can cooperate with them in your community, follow the link here coop.co.uk/member-pioneers.
When Co-op Members buy own-brand products and services, 2p for every £1 spent goes to support local causes and community organisations. To find out more about Membership, follow the link here coop.co.uk/membership.