REVIEW: Not With A Bang - Ashby Dramatic Society at the Venture Theatre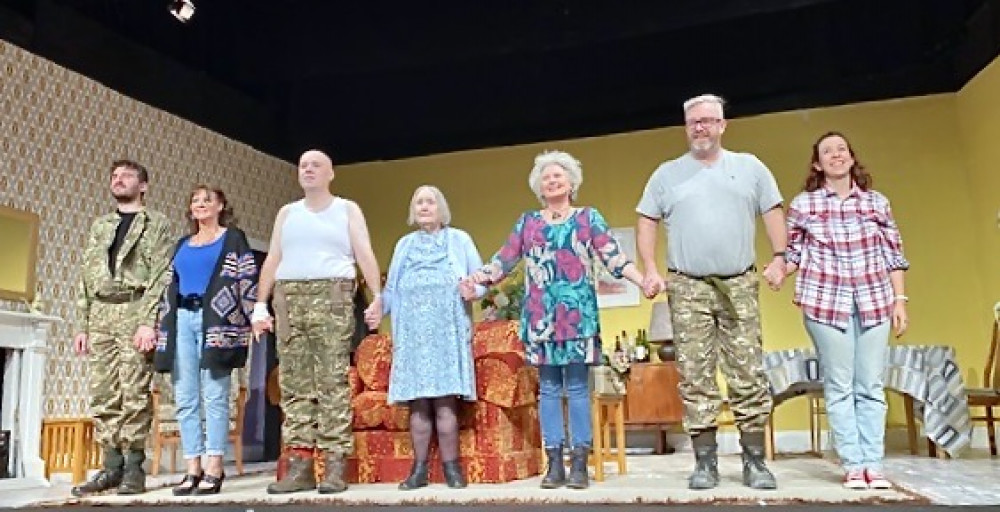 The cast of Ashby Dramatic Society's production of Not With A Bang
Not With A Bang may be set in the 1980s - but its underlying message could easily apply to today.
Ashby Dramatic Society's production of the Mike Harding play, which has been running at the Venture Theatre in North Street, is a witty throwback to the days when CND protests, at women's peace camps at RAF bases such as Greenham Common, were a regular occurrence.
All of that is condensed that into the divisions between the men and women in one family - the Clarkes - with some cheeky humour thrown in for good measure. There are a few cracking one-liners running alongside the serious theme.
At first, it appears to be an everyday tale of a northern family, with its generations there for all to see, including the representation of a newly-born baby who, unwittingly, decides the story's outcome.
As the play progresses, the more you warm to the characters who fit into the setting superbly.
But at the centre of it all, it is the most senior member of the group - the motor-cycling great-grandmother Bella, played by Norma Morris-Chapman - who glues it together, often speaking directly to the audience.
She interjects some Geordie putdowns designed to keep everyone grounded, particularly her chauvinist son Nobby, who is more concerned with being in the Territorial Army - and his wife, Norma, not putting piccalilli on his ham sandwiches.
Nobby's mate Tommy, along with son Ken - are also keen on dressing up as soldiers. But when the women in the family see a film about the effects of nuclear war, they decide to join the peace protesters - even making the TV news. Nobby thinks they are all 'Commies', treats it as a joke and says that the issues are 'too complicated' for women.
That proves a step too far for Norma, Tommy's partner Eileen and Ken's new wife Paula. They decide to withdraw their favours in the bedroom and make a banner reading 'No Nookie Against the Nukes'.
The talk is of the nuclear threat from Russia - nothing changes it seems with the modern-day rhetoric from Vladimir Putin.
Here, it is the men who are made to suffer for the insistence on staying true to their army values.
There follows a number scenes involving pent-up sexual tension - including a visual gag with a banana.
Yes, some of the dialogue is of its time, but director Paul Smith has stayed true to the original script and, without it, the story would not be as convincing.
The play's title comes from the final line of the TS Eliot poem, The Hollow Men: 'This is the way the world ends, Not with a bang but a whimper'.
But, here, in conclusion, everyone accepts future generations are the most important thing - and maybe the Russians love their children too.
Not With A Bang's final performance is tonight (Saturday) and you can book HERE.