How Ashby Co-op's Wall Of Art Said A Special 'Thank-You' To NHS And Key Workers During Lockdown
Ashby Co-op Customer Team colleague Kristen Eley wanted to show her support for the NHS and key workers during the coronavirus lockdown
---
By Graham Hill
Posted: Wednesday, 19th August 2020 12:37 pm
---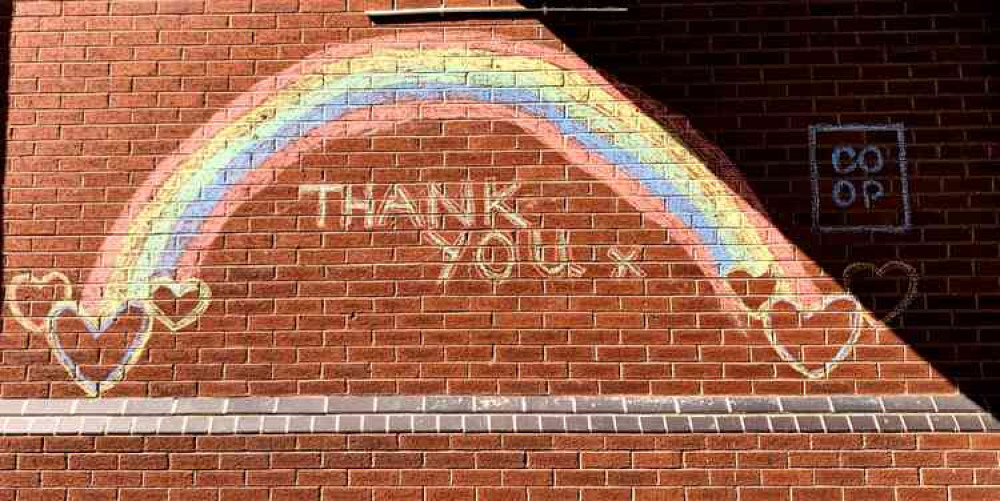 This was Kristen's initial rainbow design and others drew more pictures with the chalk provided
Local initiatives
When Ashby Co-op Customer Team colleague Kristen Eley wanted to show her support for the NHS and key workers during the coronavirus lockdown, she decided to use her creative skills in a positive way.
Kristen took coloured chalks to the Derby Road store and proceeded to create a rainbow design on the walls of the Co-op.
But she decided that some help was needed to complete the initial picture. So Kristen's mother Kay came along to help, sticking to social distancing guidelines as the family members worked together.
The Eley family is keen on art and saw this as a special gesture, coming as it did in April, when the country was feeling the effects of the Covid-19 pandemic and recognising the important work being carried out by the NHS.
The end result was that the Co-op building's brickwork was covered in messages of support and provided an unmissable focal point in Ashby's town centre.
The designs can still be seen weeks later as the general public were invited to add their own contributions.
Kristen, who has worked at the Ashby store for four years, explained the reasoning behind her artistic endeavours.
"With everything that was going on during lockdown, it appeared that the rainbow was the symbol which was getting people through the bad times," she explained.
"I wanted to follow that trend and try to put a smile on people's faces. With chalk, you can obviously clean it off eventually but it's still there, and I'm surprised how long it's lasted.
"But also, we wanted to leave some chalk outside so children, customers who had family members work for the NHS or key workers could come and contribute to the wall.
"They could do their own design. My rainbow was just an inspiration for others to do what they wanted to do."
Kristen admitted she was glad of her mum's help when she first started the drawings.
"My mum's very arty. It took us about two hours and I think if it was just me on my own then it would have taken a whole afternoon. It was good that she helped. Art is a hobby of hers but I would say she's very talented," said Kristen.
"It was amazing how well people responded. It became something very positive. I remember standing outside and watching the children pick up chalk and it made me feel proud of what I'd done.
"Here at Ashby Co-op we are all very thankful to the people working for the NHS, for everything they've done."